Artist: James Braddock
September 5 - September 26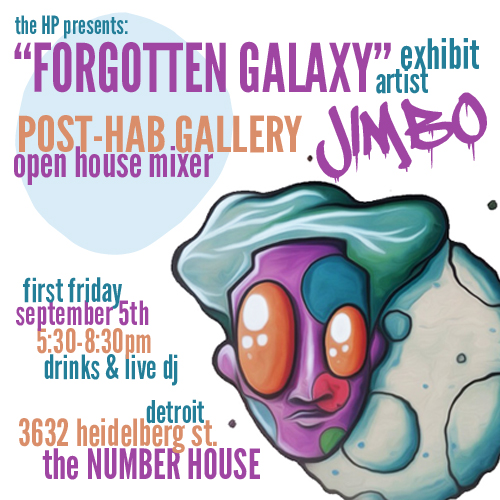 Artist Statement
James Braddock, born and raised in Detroit, first began his artistic ventures with graphic design, in addition to T-shirtproduction. In 2012, things changed when Braddock met Flaco Shalom and began an apprenticeship with Shalom in August of the following year. February of 2013 saw the exhibition of Braddock's first show entitled, 'Kids'.
Now also known as Jimbo, Braddock's style is a colorful combination of pop art and abstraction. Continuing on this new artistic trajectory, Jimbo aspires to showcase his art at the world's top galleries.
Forgotten Galaxy
Simply put, the 'Forgotten Galaxy' is my interpretation of the Heidelberg Project. It's full of artworks which are considered stars, the house planets, and the people who work there are the citizens of this small universe. Putting a spin on things, the focus of this installation is to show what people often overlook. Adding different faces and colors helps to represent all of the different type of people that make the Heidelberg Project what it is. All pieces in this show will feature many different characters, all of whom resemble children. Children are the focus. When you think about children, the first word that comes into your head should be 'future' or 'potential'. It was this first thought that inspired the creation of the Heidelberg Project in the first place.
In having a discussion with the founder of the Heidelberg Project, Tyree Guyton, the focal point was on outer space. He explained that 'Your art will take you where you want it to...even into outer space.' That's what the HP is. Another galaxy, one that gives its artists a chance to truly create. -- James "Jimbo" Braddock