Mission + Vision
Our Mission
The Heidelberg Project ("HP") is a Detroit-based community organization designed to improve the lives of people and neighborhoods through art. Our mission is to inspire people to appreciate and use artistic expression to enrich their lives and to improve the social and economic health of their greater community.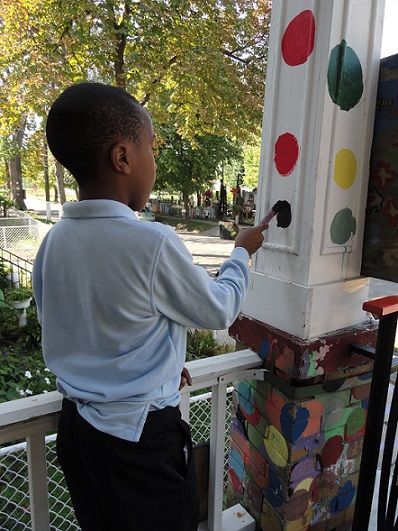 Our Vision
The theory of change for the Heidelberg Project begins with the belief that all citizens, from all cultures, have the right to grow and flourish in their communities. The HP believes that a community can redevelop and sustain itself, from the inside out, by embracing its diverse cultures and artistic attributes as the essential building blocks for a fulfilling and economically viable way of life.
The Heidelberg Project is actively engaged in three main areas.
Art and Education: We work to ensure students continue to receive art as a key component in their educational experience by conducting various art education programs at schools throughout Michigan. ACE2, Art, Community and Environmental Education, is our pilot program.
Community Development:
Our Cultural Village (community development) project begins with the House That Makes Sense Center (HTMS), a headquarters and multi-purpose space, made from found and recycled materials. The HTMS will include an exhibition space, artist-in-residence space, children's workshop, a library and more.
Tourist Destination:
The Heidelberg Project receives over 275,000 visitors annually. To learn more about the Heidelberg Project, contact us to schedule a tour and check out our Research + Resources section.
The Heidelberg Project is a non-profit 501(c)(3) organization. To volunteer, make a contribution, or learn more about what we do, please click on the appropriate link or call our office at (313) 974-6894. Donations may be mailed to: The Heidelberg Project, 42 Watson, Detroit, MI 48201 or processed electronically via the PayPal button below.
---