F.A.Q.'s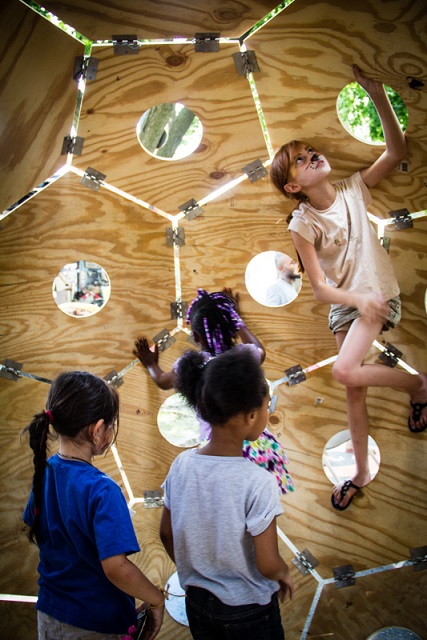 Feeling Curious?
Browse our frequently asked questions! If you can't find an answer you're looking for, just ask us.
What is the Heidelberg Project (HP)?

The Heidelberg Project is an outdoor community art environment. The elements of the canvas contain recycled materials and found objects, most of which were salvaged from the streets of Detroit. Each work of art is carefully devised to tell a story about current issues plaguing society. As a whole, the HP is symbolic of how many communities in Detroit have become discarded. It asks questions and causes the viewer to think. When you observe the HP, what do you really see? Is it art? Is it junk? Is it telling a story? That's for you to decide.

Who started the HP and when did it begin?

The HP is the brainchild of native Detroit artist, Tyree Guyton. It began in 1986 and was originally designed as a creative response to ongoing blight and decay in the neighborhood in which he grew up.

Did Tyree Guyton have help?

Back in 1986, Tyree Guyton was encouraged by his beloved grandfather, Sam Mackey. Mackey was Guyton's mentor and encouraged his grandson to pursue his dream of using his paintbrush in a new way. Guyton was also accompanied by his former wife, Karen, and neighborhood children. Together they embarked on a journey of reclaiming their community. Although primarily developed and maintained by Guyton, the HP also displays art by other artists such as Ernie Warrick, kids of Heidelberg, and resident artist Tim Burke.

Is it true that the HP was partially destroyed twice and if so, why?

Yes, the HP experienced two demolitions; one in 1991 and again in 1999. There are many theories as to why the HP was destroyed but perhaps the most persuasive reason is politics. Is it art or junk? Would you want it in your community? It draws too many suburbanites. It's a health hazard and so on. If you would like further information on the demolitions, you are encouraged to visit the library of archives You can also Google the HP and/or Tyree Guyton for a plethora of information.

What are the long term goals of the HP?

Our long term goal is to develop the two block area into a Funky Artistic Cultural Village. We will accomplish this goal by trans forming and renovating vacant houses into visually stimulating works of art. On the inside of each structure, we will host art and educational classes in various art disciplines to children and residents. For additional information, please click on what we do.

How can I get involved?

The HP is always looking for volunteers. You can download a volunteer form from our website.

Where can I send a donation?

Monetary Donations are appreciated and can be made payable to The Heidelberg Project, 42 Watson, Detroit, MI 48201.

Other types of donations are handled on a case by case basis; you are encouraged to contact the Heidelberg Project office at (313) 974-6894 or by e-mail information@heidelberg.org for specific types of donated items.

*Please do not leave any type of donated item on Heidelberg Street.

I'm planning a visit. Is it safe?

While we make every effort to maintain a reasonable level of safety within the Heidelberg Project, please remember that the surrounding area is an impoverished one. Please use caution and common sense as you would in any large urban area.
• Do not leave valuables visible in your vehicle
• Use caution if venturing beyond the Heidelberg project on foot
• We recommend that you travel by car or taxi

If you have any questions or concerns regarding the safety of your visit, please call our offices at (313) 974-6894.

How do I get to the Project?

The HP can be found by GPS at 3600 Heidelberg Street, Detroit MI, 48207 and is easily accessible by car, taxi, & bicycle tours.

Can I park on Heidelberg Street?

Yes, you're free to park on the South side (only) of Heidelberg Street or in the empty lot at the corner of Heidelberg and Mt. Elliott Streets (directly across from the yellow house).

Can I freely walk through the HP when I visit?

Yes, you are free to take a polka-dotted stroll on your own. However, please stay to the sidewalks and open lots, avoiding walking up to our neighbors porches, etc. Additionally, much of the artwork is heavily weathered. We ask that you please refrain from touching the artwork to avoid any injury.

Can I take photos when I visit?

Yes, as long as they are used for non-commercial purposes only as the HP is copyright protected by law. Please do not photograph residents, including children, as it is invasive.

Does Tyree Guyton live on Heidelberg Street?

Yes, but he doesn't always sleep there! Seriously, Guyton inherited the Polka Dot house from his grandfather, Sam Mackey. The house is currently occupied by Guyton's mother. Guyton and his family live nearby in Detroit.

Does Tyree Guyton exhibit works anywhere else?

Yes, Tyree Guyton has exhibited his work in Michigan, throughout the country and the world. The HP is only a fraction of what Mr. Guyton does. He creates projects and exhibitions in other cities. You can see other work by Guyton at the Detroit Institute of Arts, the Charles Wright Museum of African American History, the University of Michigan Museum of Art, the Kresge Museum.

Does Tyree Guyton sell work to the public?

Yes, you can see and purchase works by Tyree Guyton by appointment. Please visit www.TyreeGuyton.com.