Heidelberg Project Festival
The Heidelberg Project is art, energy, and community.
It's an open-air art environment in the heart of an urban community on Detroit's East Side. Tyree Guyton, founder and artistic director, uses everyday, discarded objects to create a two block area full of color, symbolism, and intrigue. Now in its 28th year, the Heidelberg Project is recognized around the world as a demonstration of the power of creativity to transform lives.
Thank you for visiting and thank you for supporting the arts.
---
Now accepting donations from any smartphone!
Text "SOUL" to 41444
Mobil donations made through check or credit cards.
---
POST-HAB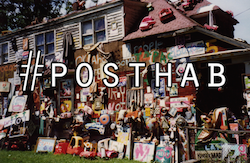 The Heidelberg Project is proud to introduce POST-HAB, an inventive epithet for a new art gallery experience. Check out more info here!
---
Tweet, Tweet!
---
We're Hiring
Are you a Marketing Nerd? The Heidelberg Project is hiring an Intern just for Tyree. Is it you we're looking for? Find out more here!
---
Have a Media Request?
Interested in shooting film or photography on Heidelberg Street? Check out our Media Request Form to get the ball rolling!