Heidelberg Project Festival
The Heidelberg Project is art, energy, and community.
It's an open-air art environment in the heart of an urban community on Detroit's East Side. Tyree Guyton, founder and artistic director, uses everyday, discarded objects to create a two block area full of color, symbolism, and intrigue. Now in its 28th year, the Heidelberg Project is recognized around the world as a demonstration of the power of creativity to transform lives.
Thank you for visiting and thank you for supporting the arts.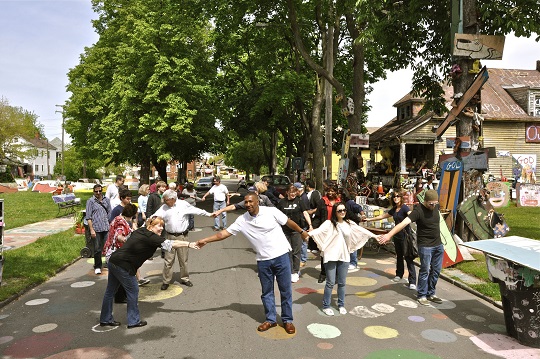 ---
"I strive to be a part of the solution. I see and understand how order is needed in the world and in our individual lives. My experiences have granted me knowledge of how to create art and how to see beauty in everything that exists. "
– Tyree Guyton    
The House of Soul Memorial Takes Shape!
---
---
---
Give $4 & the EFF will make it $5!
The HP is thrilled to share that for every $4 YOU donate, the Fred A. and Barbara M. Erb Family Foundation will donate $1, too! 
---
Have a Media Request?
Interested in shooting film or photography on Heidelberg Street? Check out our Media Request Form to get the ball rolling!
---
Tweet, Tweet!
---