Heidelberg Project Festival
Using art to provoke thought, promote discussion, inspire action and heal communities...
The Heidelberg Project offers a forum for ideas, a seed of hope, and a bright vision for the future. It's about taking a stand to save forgotten neighborhoods. It's about helping people think outside the box and it's about offering solutions. It's about healing communities through art - and it's working!
We have been one of the creative pillars of Detroit for a number of years. We were founded out of a need to bring the arts alive. We have continued to grow with the help of our donors, patrons, artists and volunteers that make our mission possible.
In this section you will find all that you need to know about our people, mission, history and frequently asked questions. If you want to learn more about our organization, just follow the links for more information or call our offices at (313)974-6894.
The Heidelberg Project is art, energy, and community.
It's an open-air art environment in the heart of an urban community on Detroit's East Side. Tyree Guyton, founder and artistic director, uses everyday, discarded objects to create a two block area full of color, symbolism, and intrigue. Now in its 28th year, the Heidelberg Project is recognized around the world as a demonstration of the power of creativity to transform lives.
Thank you for visiting and thank you for supporting the arts.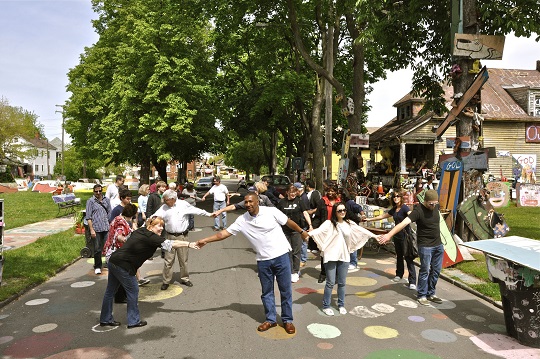 ---
---
Give $1 and we'll get $5!
HP is thrilled to announce that for everyone $1 YOU donate, the Erb Family Foundation will donate $4. There's never been a better time to donate to the HP. Donate now, right from your smartphone! Text "SOUL" to 41444 and help us change lives through Art.
---
POST-HAB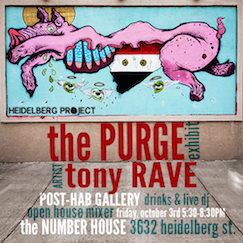 Come check out The Heidelberg Project's last POST-HAB of the season. Click here for more info
---
Have a Media Request?
Interested in shooting film or photography on Heidelberg Street? Check out our Media Request Form to get the ball rolling!
---
Tweet, Tweet!
---