Heidelberg Project Festival
The Heidelberg Project is art, energy, and community.
It's an open-air art environment in the heart of an urban community on Detroit's East Side. Tyree Guyton, founder and artistic director, uses everyday, discarded objects to create a two block area full of color, symbolism, and intrigue. Now in its 28th year, the Heidelberg Project is recognized around the world as a demonstration of the power of creativity to transform lives.
Thank you for visiting and thank you for supporting the arts.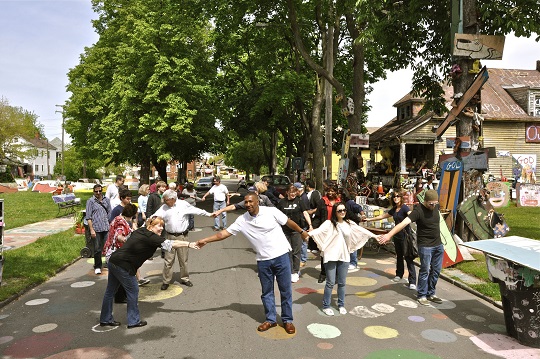 ---
"I strive to be a part of the solution. I see and understand how order is needed in the world and in our individual lives. My experiences have granted me knowledge of how to create art and how to see beauty in everything that exists. "
– Tyree Guyton    
The House of Soul Memorial Takes Shape!
---
Calling Emerging Artists!
We're planning 6 cycles for our 2015 POST-HAB artist rotation. Is it you we're looking for? Detroit-based student and working artists are encouraged to apply!
---
New year, new gear!
Support the Heidelberg Project in style in 2015! From new t-shirt & hat designs to hand-made jewelry, both the Dot Shop and The Number House Gift Shop are stocked with new HP goods! 
---
Give $4 & the EFF will make it $5!
The HP is thrilled to share that for every $4 YOU donate, the Fred A. and Barbara M. Erb Family Foundation will donate $1, too! Donate NOW to stretch your dollar further this year!
---
---
Have a Media Request?
Interested in shooting film or photography on Heidelberg Street? Check out our Media Request Form to get the ball rolling!
---
Sign up to receive our newsletters
---
---
Tweet, Tweet!